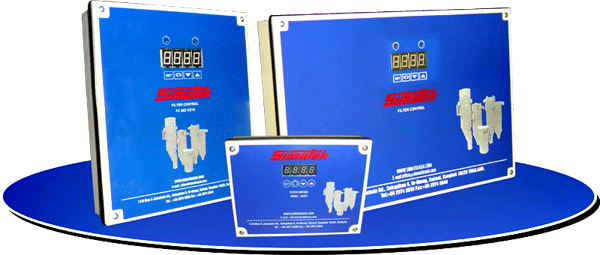 The automatic scavenging of the filter bags is regulated by an electronic control with adjustable pulse and pause time. The control unit is supplied in a plastic cabinet, protection class IP 65
Energy saving
Simatek spot filter with built-on fan, is only in operation when the connected machine is working. Thus a number of advantages are achieved, such as energy saving, simplified control of the aspiration system, and a longer lifetime of the filter bags.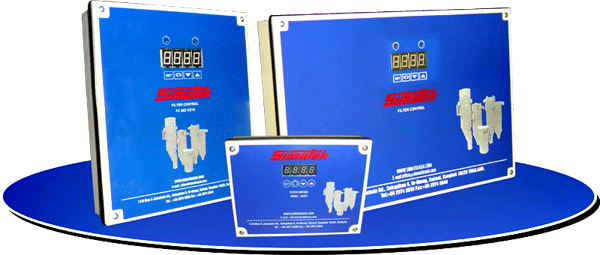 402-A8 4 Output

802-A6 10 Output

802-A4 16 Output

802-A4 20 Output

Input of Power Supply

220 V.AC.

Out Put (Power Rating) Max

Triac 3 Amp.

Number Of Out Put

4 OutPut

10 OutPut

16 OutPut

20 OutPut

Operating Temperature

-20 to +60dg.C

Pulse Time

0.1 to 1 Sec.

Pause Time

1 to 59 Sec.

Dimension (mm.)/(thk=52mm.)
A8 130x170
A6 200x230
A4 230x350
A4 230x350
Weight (kg.) *Approximate
0.8
1.45
2.12
2.15
---
Dust Collector Controller stand alone up to 20 out-put
The proportional economist design for the command and the control of the small and medium size of dust collector system especially Bags house or filter bag system
This controller is instegated of microprocessor provide out put up to 20 solenoid valve control.The function can be connecting with deltaP measurement for pressure drop demand on Filter bags.The program is design for easy programming on the function.The system can start up with the remote contact as well as by the switching off of the fan, to obtain the final cleaning cycle up to 9 cycles.
The special offline function has been integrated.The offline function in advance for reduce up stem velocity when cleaning filter bags.
Features


Compact electronic sequential controllers for up to 20 output


Regulation of the pulse time and the pause time,with indication on the display.


Easy Program and Adjustable.


Out put in semiconductor technology suitable to control solenoid in 220 VAC


In put to start or stop the sequence from external contact from P measurement


Setting number of end cycle cleaning.The final cleaning can start up with a remote contact as well as by switching off the fan.


LED indicator for out put signal and for function mode


Electrically protect by a fuse


Longer life time


Construction in PC Case IP 56