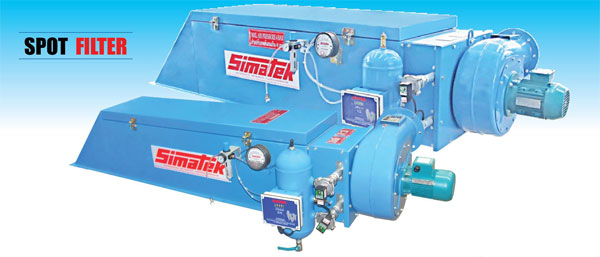 Mode of operation
The Simatek spot filter is a miniature bag filter
designed to suppress dust emission from machines and silos operating with dusty products.



The Simatek spot filter removes a minor quantity
of sir from the more or less closed working machine,
In this way, slight negative pressure is created which
prevent dust particles from escaping through leaks
or openings.

The built-on fan sucks air through the filter section mounted direct on the machine, and discharges the
cleaned air through a pipe exhaust.

The dust is separated on the outside of the filter bags,and drop into the products stream when the
automatic cleaning system scavenges the filter bags.



SPOT FILTER
FOR TRANSFERRING BELTS

SPOT FILTER FOR BELT
AND BUCKET CONVEYOR

SPOT FILTER
FOR LOADING SYSTEM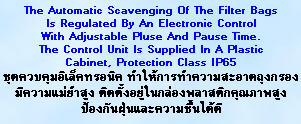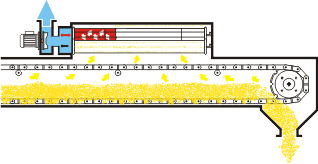 Chain conveyor with top-mounted spot filter
Advantages
The Simatek spot filter is an extremely practical alternative to conventional central aspiration, and offers a number of advantages:
1. The dust being separated inside the filter is continuously returned into the product stream, thus preventing a mixing of different types of dust.
2. The Simatek spot filter delivers the cleaned. Air, where the dust-laden air was removed. In this way, no pressure differentials will occur between the production rooms.
3. The amount of intake air is automatically adjusted by the built-on fan, depending on the extent of leakines.
4. The large suction intake involves a very low admission speed, thus minimizing turbulence and dust cirkulation.
5. In the event of fire in a machine with built-on spot filter, the filter will not act as a connecting link to other machines.
6. The Simatek spot filters are just as suitable for extension of existing central aspiration plants as they are for building up complete plants, only based on spot filters.
7. With Simatek spot filters, extensions incar no problems. New machines calling for dust aspiration are equipped with separate spot filter, thus avoiding interference into existing aspiration systems.